We deal mostly in the buying and selling of classic cars, but recently, and especially with regards to this blog, we've been trying to make ourselves a broad resource for enthusiasts and a font of trivia and information. So when some of you asked us what you should do with the shiny new vintage model you picked up at the Raleigh Classic in December, we will of course tell you to share it. That's right, you should share your classic car with other classic car enthusiasts. How do you do that?
Go to a classic car show. Every year, events are held all over the country on all sorts of scale. Collectors gather from around the area to show and discuss their favorite cars. These meets are fun for you and your whole family, and there are several that happen right here in North Carolina.
The Hornets Nest Region of the Antique Automobile Club of America hosts two meetings every year. Their Charlotte AutoFair Spring Meet runs from April 9-12 at the Charlotte Motor Speedway. It typically hosts thousands of cars and vendors, requiring multiple days just to see everything.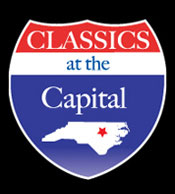 There's also Carolina Classics at the Capital, the fastest growing car show in the south. This two day show is held indoors at the Raleigh Convention Center downtown. Hundreds of cars and car-owners will be in attendance. Their website hasn't been updated for the 2015 showing, but it's usually held in August, so keep your calendar clear.
But what if you aren't local? Or what if you're looking to travel with your car and network with people on a national level? Old Cars Weekly has you covered. They keep track of every antique and classic car show in the United States, so consult their schedule if you're looking for an exhibit elsewhere.
What if you don't have any cars to show? Should you still attend a car show? Absolutely. There's no better way to cultivate and learn about this hobby than to see cars and talk to their owners.
When you're planning which events to attend, just remember to keep the weekend of June 19-20 free. That's the date of this summer's Raleigh Classic Car Auction, and you won't want to miss that.
Classic Car Shows: How Can I Share my Classic Car with Others?
was last modified:
February 4th, 2015
by