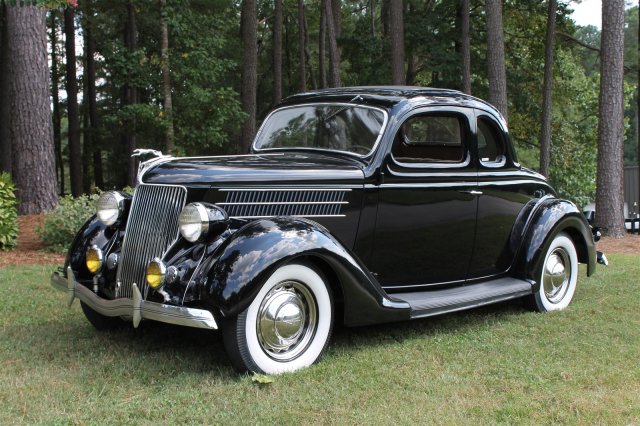 Whoa, Hoover, get back in your cave! What is this Depression going on? The stock market burnt everything up, there's nothing but Charlie Chaplin films at the theater, Prohibition means we can't get a drink, and Jim Braddock just won the World Heavyweight Championship. What in the world is happening?
If these events sound familiar to you, it's because they all happened in the 1930's, which is the theme of today's post. At the Winter 2014 Raleigh Classic, we're fortunate to have a number of classic cars from the 1930's up for auction. Rare, evocative, and part of a decade that is the one of the most infamous in U.S. history, the '30s offer a unique glance into our nation's heritage.
1930 Ford Model AA Truck
First up, we have a green and black pickup that still carries the sense of automobiles being a novelty. Spare and lightweight with wooden bedsides, this AA benefitted from a full restoration eight years ago.
1931 Durant 614 De Luxe Sedan
Ah yes, here we are, a car fit for millionaires or mobsters. With a boxy passenger compartment and the barest of slits for windows, one can imagine tommy guns pointing out or photography equipment pointing in.
1933 Chevrolet Sedan Delivery
Billed as "one of the rarest Chevrolets ever produced," this all-steel coupe proved that even a delivery boy can look like high-class if he plays his cards right. Also, few people even know this car exists.
1935 Ford Phaeton
This must have been a good year for Ford because all of the models we have from this timeframe are from old Henry's company. With a beautiful convertible top and powerful V8, this Phaeton hinted at light at the end of the tunnel.
1938 Cadillac Series 90 V-16
If you've been following our blog, you might remember our post about this one. With a V-16 and decades of museum exhibition, this car was probably driven by people in tuxedos and mink coats. Lots and lots of mink coats.
Those are just a handful of the 1930's-era cars that will be available at the Winter 2014 Raleigh Classic this Friday and Saturday. Register now to attend and/or bid. At the very least you can see automotive history!
Your Classic Cars From the 1930's Are Here
was last modified:
January 7th, 2016
by