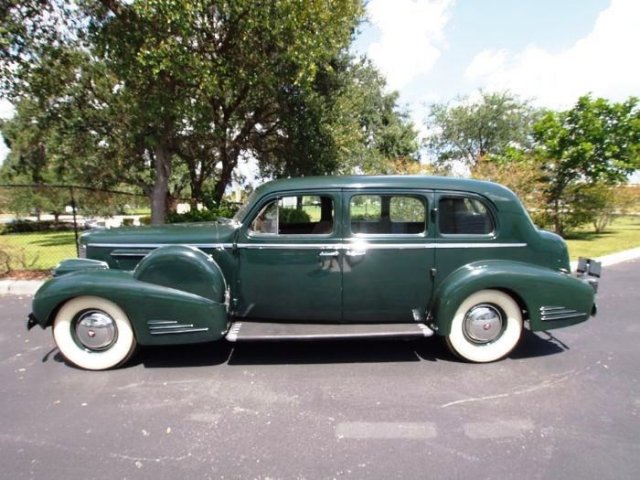 This is a Cadillac Series 90 from 1938 with a V-16 engine. Honestly we didn't know they even made cars with 16 cylinders. We're not sure you can call it a sedan or even a saloon—the word that comes to mind when looking at it is limousine.
One of the most interesting things about it is that it was created as a custom vehicle for a "woman of wealth" at that time, to be chauffeured around like royalty in America. Who was she, we wonder. The car had to have been ordered a year or two before it was ready, which would put us right in the middle of the Great Depression. There weren't many fabulously independently wealthy women at that time, so this car's existence is puzzling.
That said, it is fantastic. Every inch of it oozes comfort and luxury, the kind of isolationist bulk that is typically the provenance of Rolls-Royce, and was apparently typical of Cadillac, too. This was Cadillac in its golden hour: top-tier vehicles for top-tier Americans. How interesting then that almost as soon as the Great Depression was over, and the blight of crushing poverty removed from the land, that the female owner gave it up.
The records indicate that after seven years, one economic collapse and one World War, the woman gave it away to European museums in 1945. There it passed over the war-ravaged scourge of the old continent for the admiration of the super-wealthy until returning to America in the 1970s, no doubt finding its home very changed. And here we are today, now looking at this strange relic from a faraway time.
It was recently completely restored in a mechanical sense by Mechanical Restorations of Rockland. The car has been prepped for a cosmetic restoration, as well, but has not undergone it yet. On the mechanical side, nearly all of the original parts are still present, aside from the perishables which have degraded over time (rubber, gaskets, etc.).
The car has been restored to "museum-grade" quality including the following:
"Entirely rebuilt or new fuel pumps, fuel lines, fuel tank lined with polymer, complete wiring harness, carburetors rebuilt, starter rebuilt, heaters rebuilt, electrical systems checked and components replaced as necessary, brakes rebuilt and relined, suspension bushings replaced, steering box and linkage rebuilt, tires replaced, complete new exhaust system, radiator re-cored, engine and entire undercarriage cleaned and repainted, exhaust manifold re-welded, heat treated and plated, all rubber parts and hoses replaced, entire mechanical functionality checked and the front end aligned."
Come by to see it and our other offerings at our Winter 2014 Raleigh Classic between December 5th and 6th.
Crawl Into the Skin of a Wealthy Woman With This 1938 Cadillac
was last modified:
January 7th, 2016
by