To say that the Chrysler New Yorker is a stately vehicle would be well-earned. Produced from 1940 to 1996, this was Chrysler's flagship vehicle for the majority of the twentieth century. It has the distinction of being one of the longest-running American car nameplates in history, and its enduring legacy still cements Chrysler as an upscale maker to this day.
To say that this 1951 Chrysler New Yorker is a stately vehicle would be an understatement. This car is nothing short of regal, as it was the very car that Her Majesty Queen Elizabeth II rode in with the Duke of Edinburgh during her first tour of Canada in 1951. She and her husband Philip spent thirty-three days crisscrossing Canada in the prestigious vessel, parading through various cities and waving to what she called "a land full of hope, of happiness and of fine, loyal, generous-hearted people" before flying home. If you're interested in more of the Queen's visit, the Canadian Broadcasting Corporation has an article commemorating the event on their website, here.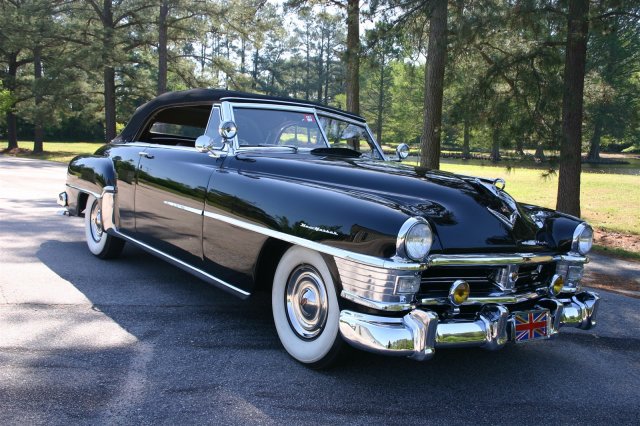 As for the car, once the tour was over, it was returned to Chrysler and put on display at the opening of a new dealership in Melfort, Saskatchewan, where it was shortly thereafter purchased. Over the next sixty years, it traveled all over Canada and the United States as it was traded from owner to owner, never once being worn out or overused. Today it has just over thirty thousand miles on it and remains in pristine condition. Most of the black paint is original, and all of the original red upholstery remains excellently preserved. The top was replaced in 1990 with NOS fabric, but otherwise the car is largely unchanged.
The 1951 New Yorker was the first to receive a 180 horsepower FirePower Hemi engine, as well as an industry first – power steering. This Hydraguide steering and Hemi power paired well with the Fluid Torque Drive and Fluid Matic semi-automatic transmission. All of this machinery is in working order.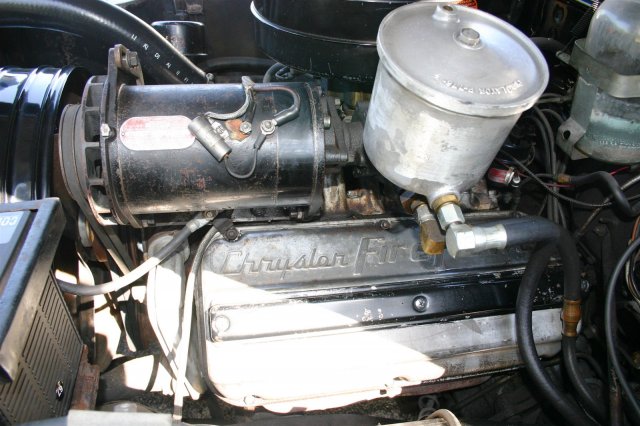 The last feature to set this car apart as a Royal New Yorker: a crown badge on the hood, resting beneath the winged hood ornament. This is the perfect vehicle for a collector with a real flare for history, and it will be up for auction as lot #130 at the Raleigh Classic this weekend. Read more information about the car's ownership and see more pictures on the detail page, and make sure you've registered to bid if you haven't already. We don't want you to miss out.
1951 Chrysler New Yorker: A Royal Tour Car
was last modified:
January 7th, 2016
by